We are thankful for the many organizations, government officials and citizens who endorsed Summit DD. Each have their own reason to stand behind Summit DD, however their endorsement empowers people of all abilities.
Add your name to this list with our handy online form.
Or download the form to email to AKelly@SupportSummitDD.com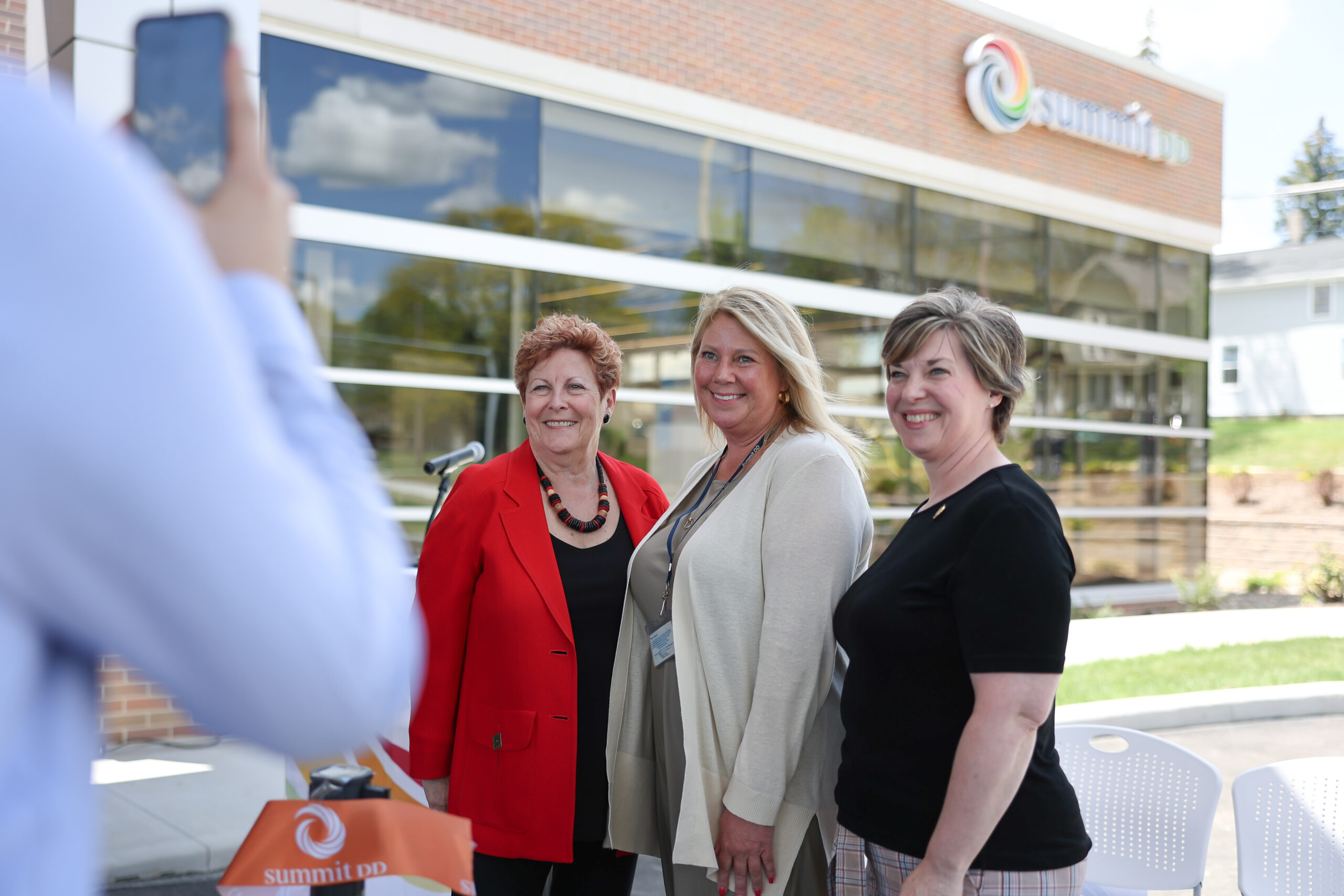 Business Community & Community Partners
Greater Akron Chamber of Commerce
Summa Health System
Stow Munroe Falls Chamber of Commerce
ArtsNow, Nicole Mullet, Executive Director
Akron Rotary Camp, Dan Reynolds, Executive Director
Child Guidance and Family Solutions, Karen Talbott, CEO & President
The Arc of Ohio, Gary Tonks, President & CEO
Akron Zoo, Doug Piekarz, President and CEO
Akron METRO RTA
The K Company, Inc.
United Disability Services of Akron, Brian Thomas, President & CEO
Weaver Industries, Jeff Johnson, Executive Director
Abundant Works Enrichment Services
People First Day Program and Transportation
TRIAD Communications
Professional Healthcare Solutions
Community Behavioral Nursing Services, Lisa Kosley, Nursing Administrator
All About Kids Preschool
Summit Artspace, Heather Meeker, Executive Director
Cuyahoga Falls Library
Ardmore Inc., Yvette Diaz, Executive Director
Kids Capes of Courage, Debby Rowland, Founder
Hermes Helpers, Kelle Bacon, CEO
Direction Home Akron Canton Area Agency on Aging & Disabilities
Autism Society of Greater Akron
Down Syndrome Association of Northeast Ohio, Toni Mullee, Executive Director
Greenleaf Family Center, Dawn Glenny, CEO
Special Olympics Ohio
Inclusioneers
Community Habilitation
Summit County Children Services, Cassandra Holtzmann, Executive Director
Akron-Summit County Public Library
Akron Metropolitan Housing Authority
Saf T First Transportation
Special Needs Magazine
Summit Housing Development Corporation
Advancing Independence
Akron NAACP
County of Summit Alcohol, Drug Addiction and Mental Health Services Board
Government Officials & Media Outlets
Vernon Sykes, Ohio State Senator
Casey Weinstein, Ohio State Representative
Ilene Shapiro, Summit County Executive
Summit County Council, Unanimous Vote
Akron City Council
Barberton City Council
Tallmadge City Council
Sherri Bevan Walsh, Summit County Prosecutor
Daniel Horrigan, Mayor, City of Akron
Don Walters, Mayor, City of Cuyahoga Falls
William B. Judge, Mayor, City of Barberton
John Pribonic, Mayor, City of Stow
Allen Mavrides, Mayor, City of Munroe Falls
Bernie Hovey, Mayor, Village of Silver Lake
Shammas Malik, Presumptive Mayor-Elect, City of Akron
Ross Widenor, Munroe Falls City Council, Ward 1
Individuals and Families in the Community
William H. Considine
Dan Flowers
Christy Fried
Jason Johnson
Sarah Sanford
Stacy Timm
Ken Babak
Todd Eisinger
Aaron Alli
Lisa Rach
Erin Pemberton
Pam Hunt
Kathy Brunton
Bill Ginter
Jennifer Hudak
Abigail Cureton
Brady Duta
Chuck Clark
Melissa Skiljan
Emily Viscomi
Michael Kilgore
Matt Schonover
Dominique Wilkes
Ann Thomas
Brittney Sullivan
Meredith Skye
Gia Bell
Susan Cooper
Ali Hiley
Julie Abiecunas
Kelly Shaw
Jason Shuster
Kim Morgan
Lori Feist
Melissa Kungle
Tracey Sproul
Jason Dresden
Lisa Dapp
Sherri Smelko
Debbie Kotabish
Candice Williams
Michelle Yates
Nancy Laria
Pam Bagley
Andrea Schoofs
Amanda Hite
Sandra Gotter
Sarah Mecini
Barbara Karadin
Mary Gill
Dana Reicker
Raied Abukhaled
Cindy Norwood
Katie Poulin
Rosalie Groh
Beth Iacano
Tammy Roebken
Kelly Roberts
Denise Frangos
Lydia Freed
Elaine Bowen
Steve Dubetz
Paula Marsh
Jennifer Windle
Angela Grachanin
Nana Sugden
Anne Twohig
Lynzi Terbanc
Amanda Gordon
Katie Snyder
Katherine Conrad
Tracey Foyle
JulieAnn Sweet
Bethany Kessel
Michael Krawick
Katie Green
Tom Quade
Chuck Clark
Teddi Dowey
Emily Tuttle
Michele Beeman
Becky Frank
Leslie Cowen
Robin Turner
Amee Jones
Jennifer Agnew
Brad Nemec
Arlene Pfaff
Jessica Boring
Ashley Forte
April Jowers
Jeffrey Cameron
Amanda Quinn
Crystal Huber
Heidi Strodtman
Lori Ast
Kathleen David
Heather Vincent
Deborah Behra
Karla Burgess
Joyce Kelsey Shyjka
Kevin Roberts
Mary Spak
Elena Knapp
Christina Austin
Jolly Jordan
Shanna Krutschnitt-Kerr
Sue Kinney
Tiffany Mollard
Nicole Roche
Julie Foster
Lee Heid
Jodi Crislip
Jacqueline Gwinnup
Erin Pemberton
Karen starr
Anna Klemm
Barbara DeKemper
Amanda Evans
Tammy Lipply
Sandy Whitmer
Mary NicholsRhodes
Lynette Wansley
Chris Lacy
Brittany Kinstler
Heather Brolly
Melissa Milforc
Catherine Staker
Deborah Sherritt
Shannon Shonk
Andrea Slanina
Victoria Fesemyer
Andrea Reisinger
Lucy Blevins
Lura Beaven
Marlesha Ouedraogo
Janice Steuart
Tish Rowland
Brittany Christy
Pam Kuethe
Marisa Ferrise
Jaclyn Kurtz
Amber Holcomb
Kristen Hellems
Kaitlin Kimberley
Katie Rathers
Christina Junk
Mark Beane
Meghan Stansloski
Jason Arrington
Kristi Wiant
Catherine Staker
Ileen Rissmiller
Morgan Smith
Elizabeth Schlafer
Pam Bagley
Tiffany Simonson
Joni Kennedy
Sherry Bunner
Kelly McIntyre
Kerry Stanziano-Bradic
Jessica Brown
Rick Kavenagh
Mickey Sayer
Tiffany Spencer
Beth Fuchs
Amy Barnett
Maggie Williams
Brianne Blatt
James Rajiah
Stephanie Plummer
Elizabeth Archinal
Elizabeth Wood
Jessica Clancy
Nate White
Stephanie Valenti
Dawn Foster
Melissa Kungle
Denise Thomas
Patricia Gindraw
Jennifer Kowaleski
Shannon Patchin
Robin Butler
Nicole Mann
Amanda Gilliams
Julianne Lambeth
Jennifer Miller
Jessica Foster
Kimberly Travers
Allyson Boyd
Mary Markowski
Jessica Lake
Valerie Riedthaler
Robert Schmidt
Sarah Scott
Beth Sanders
Joseph Bazelides
Haylee DeSonne
John Ballard
Jessica Norwood
Katelyn Stouffer